Partnering with
Accountants
Your guide to the
ultimate referral destination
At last! Here is a complete guide for financial planners and other professionals that explains how to develop and maintain long-lasting referral arrangements with accountants.
Partnering with Accountants outlines the do's, the don'ts and other essential insights that can deliver great outcomes for clients as well as business growth for both accountants and referral partners. These tips will make all the difference with the success you achieve in securing quality leads and client introductions from accountants.
Written by an accountant who enjoyed a successful JV with a financial planner, this book provides practical advice as to just what it takes to create an ongoing stream of referrals. All issues both small (such as what language not to use with an accountant) and large (considerations in buying an accounting firm) are tackled in the book. A collection of ready-to-use letters and other tools to help you secure real outcomes is also included.
Why read this book?
This comprehensive insight explains accountants' concerns about referring their clients and how to help them feel confident about endorsing a third party. How to successfully initiate and build collaborative relationships is outlined in easy to understand steps.
Filled with case studies, check lists and tips, Partnering with Accountants is a handbook that will help financial planners to navigate through the challenges and opportunities associated with accounting collaborations.
Interestingly, a section of this book has been used in the Chartered Accountants' Public Practice Certificate Course. This is all part of Scott's mission to improve referral relationships with accountants.
About the Author
Scott Charlton, is a Chartered Accountant, CPA and business coach who has worked with hundreds of financial planners. Professionally speaking he has worked on 'both sides of the accounting fence'.  Scott has assisted many practitioners in forming collaborative relationships which in turn have resulted in great results for end clients. He is uniquely qualified to offer clear commentary and honest insights about what it takes for financial planners to successfully partner with accountants.
Scott has made numerous presentations on forming referral relationships at financial planning conferences. He was also the co-author and presenter of a two day "Accountants JV Masterclass".
On the other side of the fence, Scott is the author of "The Bold Accountant" – a book and workshop of the same name – in which he encourages accountants to think expansively and work collaboratively. He truly is committed to achieving lasting results by means of healthy cross-referrals.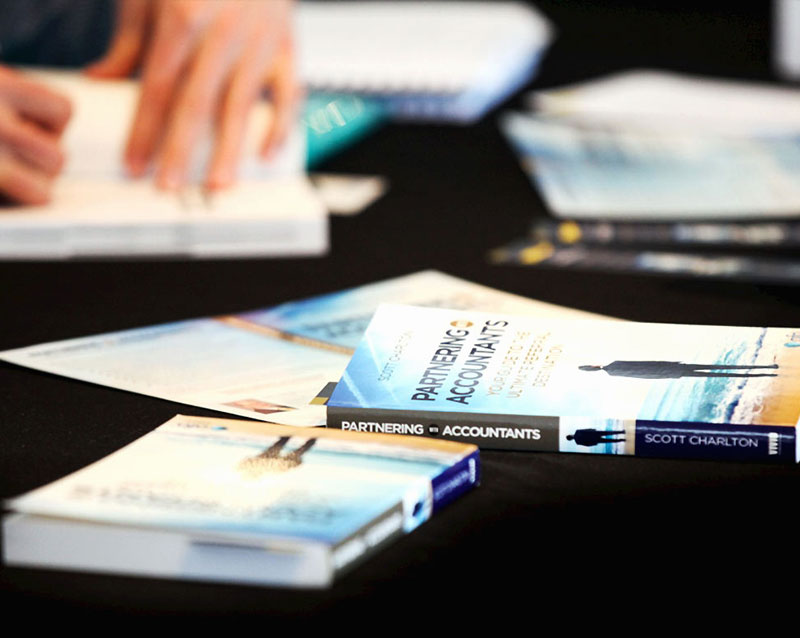 Free Chapter
This complimentary download contains the author's introduction to the book, along with the powerful first chapter. After reading these sections, you'll know whether this is the book for you. In fact, if all you ever do is put into practice the two pages of Scott's "Dont's and Do's" contained in this sample, you will be miles ahead of all the other hopefuls knocking on the door of the accountants you'd love to do business with.
The  sample will also introduce you to the unique travel analogy that Scott has used throughout the book, designed to explain the concepts and put answers at your fingertips. How many accounting referrals would it take for you to secure in order to justify investing a few minutes to see what this book has to offer?
Reviews
Find out what financial planners and other accounting professionals are saying about this book.
Despite the seemingly obvious synergy between accounting and financial planning, little attention has been given to this issue that is, until now! The fact that someone with such intimate working knowledge of both professions has devoted his attention to the issue is a significant benefit to participants on both sides of the "divide".
Scott has a unique understanding of the impact of FOFA and the broader regulatory framework as it affects both accountants and financial advisers. This understanding has been distilled into a range of informative insights and extremely useful practical tips for practitioners working together to improve client outcomes and their own businesses.